When a storm comes, homeowners want to know that their shingles will last. Even when there are weather extremes like hail, they expect their shingles will provide protection for their homes. At CertainTeed, we have developed a roofing technology that strengthens shingles against impact damage and increases their longevity – ClimateFlex polymer-modified asphalt.
Learn more about this innovative asphalt formula and how it protects your home.
Superior Protection With Polymer-Blended Asphalt
ClimateFlex's strength comes from its rubber-like characteristics. We developed our proprietary formula in-house using a blend of rubberizing polymers and high-grade asphalt. These two elements are combined on a molecular level to create a material that is all-at-once tough and flexible. The durable nature of this enhanced roofing material helps shingles resist weathering, cracking, and hail damage.
No Compromising on Curb Appeal
While ClimateFlex's asphalt formula is different, there is no noticeable material difference to the naked eye. These shingles come in the same size, shape, and color options as traditional asphalt shingles – so there is no aesthetic sacrifice for the improved performance.
Shingle Technology That is Made for Inclement Weather
ClimateFlex was developed to provide an extra level of protection over that of standard asphalt shingles. Shingles made with ClimateFlex have an industry-leading Class 4 rating (UL Classified to UL 2218) against hail. Further, ClimateFlex also allows for deeper embedding of the surface granules that protect shingles against deterioration from long-term UV exposure.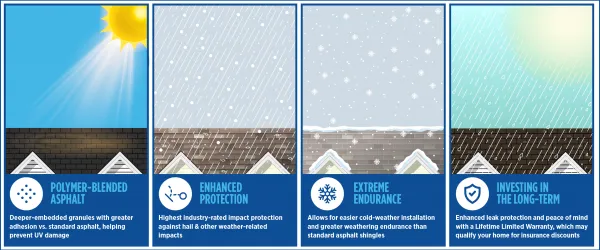 Climate

Flex
Can Help Reduce Insurance Premiums
Homeowners and contractors are not alone in understanding the amazing benefits of polymer-modified asphalt shingles. Since these products are proven to protect, many insurance carriers offer discounts on homeowners insurance premiums when a home has impact resistant roofing. Be sure to ask your carrier if they offer any benefits for homes with impact-resistant roofing.
Enhanced Pliability Makes Installation Easy
Not only does our ClimateFlex technology protect homes from extreme weather, but it also helps contractors during the installation process. Standard asphalt shingles become stiff and brittle in cold weather, but ClimateFlex's rubberized polymers help keep shingles flexible when temperatures drop – making them easy to cut, handle, and nail to the roof.
Learn More About Our Shingle Technology
For decades, CertainTeed has been at the forefront of shingle development and design. Our researchers continue to innovate in ways that help shingles last longer and protect homeowners against the elements. Learn more about our residential roofing technologies and how these products can improve your roofing experience.